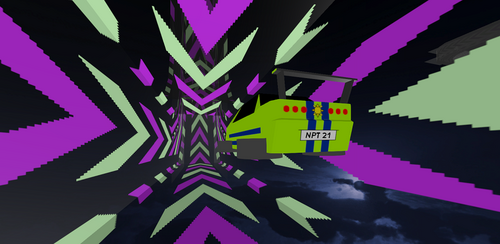 Hello, folks! NaBUrean Prodooktionz is proud to announce
the early access version of Nitropteron.

I mean, what are you doing reading this post?
Download the game and play now!
Welcome back! Did you like it?
Did you finish the race? Did you finish a lap?
Nevermind, next time it will be worse!

- o -

Nitropteron is not your typical racing videogame.
Racetracks have turns in any direction.
And your ship actually flies in the air!
Turn left/right, pitch up/down, and roll sideways.
Throttle, brakes, and nitro.
You will need all of them to win!
Fly fast to the finish line!
Crash your rivals, or get crushed!
- o -

Minutes ago we found an orange-level bug in the online mode.
And the feature backlog is overflowing with minor and major tickets,
including starting lights, a scoring tower, luxury boxes, urinal troughs,
a career system, local tournaments,
and a MMO battleground royale last man standing demolition survival mode.

However, the hordes of programmers are recovering from the 2-year crunch,
the executives have already snoozed their phablets at their seaside resorts,
and the budget is already spent on nitro tanks for the investors' ships.
So please be patient!
Nevertheless, the race is ready and set. Now go!


Files
Nitropteron 1.10.29 (for Linux)
68 MB
Oct 30, 2021
Nitropteron 1.10.29 (for Windows)
64 MB
Oct 29, 2021